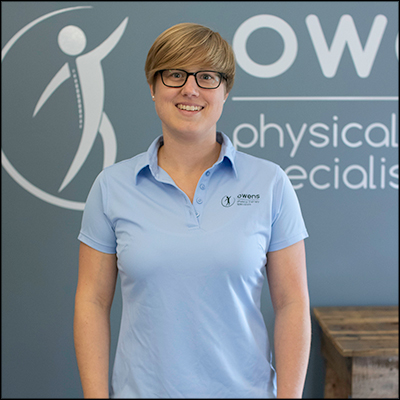 Katie graduated from Grand Valley State University with her Bachelors of Biomedical Science in 2008 and her Doctorate of Physical Therapy in 2011.  She enjoys spending one-on-one time with patients as they work together to restore daily tasks and activities.  The problem solving and variety of diagnoses that come with working in an outpatient orthopedic physical therapy setting keep her on her toes.  She has training in advanced manual therapy techniques which she uses in her treatment sessions along with exercises tailored to each patient. She also has a considerable amount of experience in kinesiotaping.  Katie is knowledgeable in working with foot and ankle mechanics and the return to functional and sport activities.
After living and working in Holland for several years, Katie, and her husband Brandon, took a sabbatical from their jobs to travel the world and spend time with friends and family.  The sabbatical included time in Australia, Thailand, and Europe as well as road trips out West and throughout the Midwest. Feel free to ask her more about these adventures.
Now Katie is pleased to be a part of the team at Owens Physical Therapy Specialists, spending quality time with patients and coming up with innovative physical therapy treatment ideas with co-workers. When she is not at the clinic, you can find her rock climbing, snowboarding, experimenting with a new cheesecake recipe, or checking out events around Grand Rapids.
"Owens Physical Therapy Specialists is a wonderful practice. They take a great deal of interest in their patients and tailor every therapy program for the individual. I wouldn't go anywhere else for physical therapy. I have my mobility back thanks to Jim Owens and this great group."
— Lynn