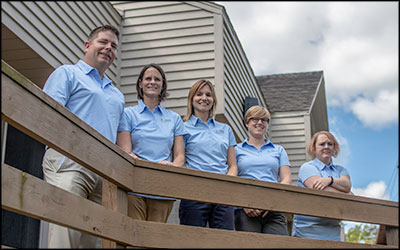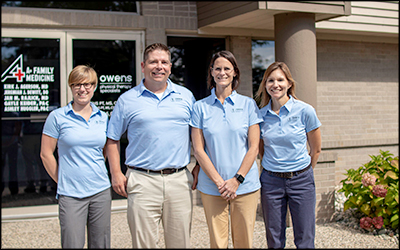 Locally owned and operated for over ten years, Owens Physical Therapy Specialists offer patients of all ages a welcoming, comfortable and stress-free environment where caring and experienced physical therapists provide the one-on-one care you deserve!
Physical Therapist Jim Owens opened his private practice in 2008 with the goal of providing a quality and affordable physical therapy experience for the Grand Rapids community. Now a decade later, Owens PT Specialists continues to deliver quality care by providing one-on-one care from highly experienced and knowledgeable clinicians. Regardless of your issue or needs, we never use assistants or technicians to provide your care — you will always be treated by one of our licensed physical therapists. 
We proudly remain committed to providing a positive experience to all of our patients, complete with effective techniques, realistic recovery programs and open communication at each step of the process.
All of our patients receive a customized care program, including:
A Comprehensive Evaluation – Our licensed physical therapists will assess your problem and the entire kinematic chain to discover areas of strength loss, range of motion loss, and compensation strategies.  Many times we have pain in a specific area that may be created from other parts of the body and manifesting itself in a different region of the body.

 

The thorough evaluation you will receive will bring any discrepancies to light, and will be addressed day one, to quicken your healing process.  
Manual Therapy – In addition to the exercises that will be specifically tailored to your needs and ability levels, the clinicians at Owens Physical Therapy Specialists may need to help assist you with a hands-on approach.  Some musculoskeletal issues require the skilled hands of our therapists to improve range of motion or perform myofascial release techniques that improve the mobility of the muscles or joints.
Personal Supervision – Rest assured that your exercises will be tailored to your specific issue, and know that our knowledgeable staff will be personally instructing you. This will insure the most optimal form to get the best results for your efforts.
Patient education: You will be given detailed information on the source of your symptoms and you will be taught how to manage and avoid further irritation. Your physical therapist will instruct you on how to continue your rehab on your own with detailed written descriptions and images.
Modalities: Application of modalities, such as electrical stimulation, ultrasound, iontophoresis and hot and cold therapies will be used as needed to help reduce and control your pain.
 State-of-the-Art Facilities: Your physical therapist will utilize the gym and exercise equipment to help facilitate a successful and timely recovery.
Owens Physical Therapy Specialists proudly enters their tenth year of service as the team Physical Therapists and Rehabilitation Consultants for the Grand Raggity Roller Girls.
For more information about the physical therapists at Owens Physical Therapy Specialists, please contact us here or call our office directly at 616.956.0040.
"I've been a patient of Owens PT specialists on and off for the last six years (getting old is no fun!). The friendly atmosphere of their office, personal attention and concern for my well being even after treatment is unmatched. Thanks Owens Physical Therapy Specialists!"
— Michael