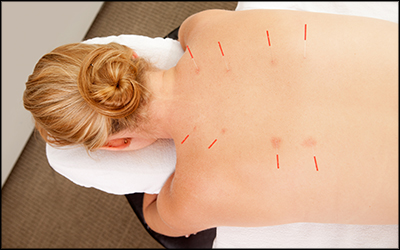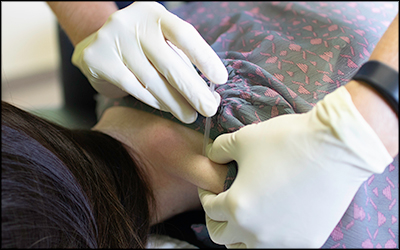 Our physical therapists often incorporate dry needling into your rehabilitation plan to help you reduce pain and improve functionality of your problem area. Dry needling uses a thin needle to penetrate your skin to bias underlying muscle spindles, myofascial trigger points and connective tissue.
Dry needling used for physical therapy stems from Western research and the study of the nervous and musculoskeletal systems. Thus, dry needling differs from acupuncture and its Chinese philosophies of using meridians, qi and acupuncture points.
Preliminary research supports that dry needling improves pain control, reduces muscle tension and normalizes dysfunctions of the motor end plates — the sites where nerve impulses transmit information to your muscles. This can help speed up the patient's recovery towards active rehabilitation.
For more information about dry needling treatments from the PT specialists at Owens Physical Therapy, please contact us here or call our office directly at 616.956.0400.
"I could not have asked for a better place to rehab. The entire staff is extremely kind and knowledgeable. I was always excited to go to Owen's Physical Therapy because I knew the staff was doing everything they could to help me get to full health. Best PT center in Grand Rapids."
— Jordan