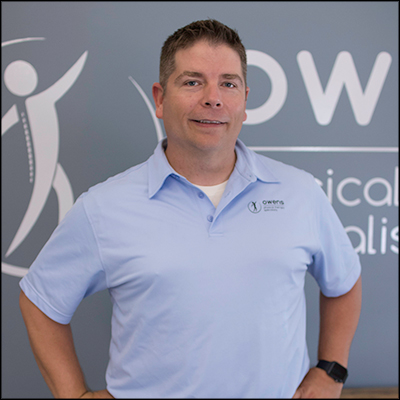 Jim Owens graduated with his Bachelor's degree in Health Sciences in 1999 and later received his Master's degree in Physical Therapy from Grand Valley State University in 2001.  Jim began to specialize in the treatment of spinal disorders and received his McKenzie Spine Certification in 2006 from the McKenzie Institute.  In December of 2008,  Jim had a vision to deliver a higher quality of care and opened Owens Physical Therapy Specialists, with hopes of restoring the personal, one-on-one, patient-oriented care that initially drew him to the practice of physical therapy.
Jim has worked in a variety of settings that have cultivated his experience.  Jim has worked in the acute care hospital setting, where he was exposed to pre and post surgical, orthopaedic, neurologic, pediatric, and cardiac rehabilitation.  Jim also has experience with in-home rehabilitation, where he was responsible for treating patients who were too debilitated to leave their homes for an outpatient therapy setting.
Jim's passion and primary experience has been in the outpatient orthopaedic setting with an emphasis on treatment of spine disorders, sports injuries and post surgical rehabilitation involving every area of musculoskeletal system.
Jim has been an adjunct professor of the physical therapy program at Grand Valley State University since 2006.  He has taught Advanced Manual Therapy and Clinical Education to students in varying levels of the Doctorate Physical Therapy program and continues to remain involved in higher learning at GVSU.
Jim is currently seeking his certification as an Orthopaedic Specialist, as recognized by the American Physical Therapy Association (APTA).  Jim has been a member of the APTA in good standing since 2004.
"Jim Owens and his staff are amazing! Their treatment got me back to running and playing hockey after having meniscus root reattachment surgery. The personal attention that you get at Owens PT is what makes the difference in both your physical and emotional recovery."
— Carrie