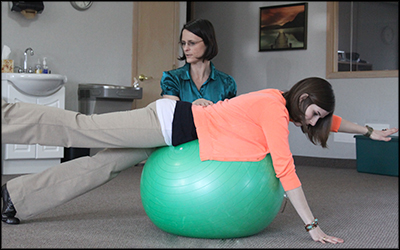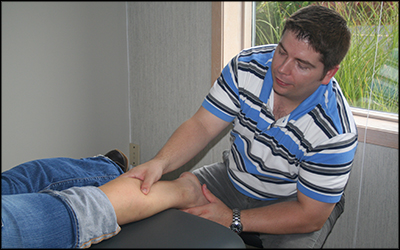 Patient care and transparency rank high on our priority list. The more our patients know about their ailment, injury and the process to eliminate it, the more we can help you get there.
Listed below are answers to many of the most frequently asked questions we've received over the years. Click on any of the topics below for the answer you need and if you cannot find it, please do not hesitate to contact us here or call our office directly at 616.956.0400.
Do I need to see my doctor first before I can come to physical therapy?
No. Michigan law no longer requires a signed prescription from your doctor in order to get physical therapy. However, we still work closely with your healthcare provider to keep them informed of your status. Call and ask about our free consultations!
Why is physical therapy a good choice?
More than half of all Americans suffer from some form of physical pain. We show you how to manage/reduce/eliminate the pain yourself. This pain can be chronic or a recent episode. Many people do not know that physical therapists not only treat the pain itself, but also its source. Physical therapists are experts at treating movement and neuro-musculoskeletal disorders. If you know where your pain is coming from and are able to correct it, you are more likely to be able to prevent future episodes or even surgery.
Will my health insurance cover physical therapy?
Yes, but specific benefits depend on your health insurance plan. Upon scheduling your initial appointment, we make a courtesy call to your insurance to verify your benefits; These benefits, of course, are not guaranteed until we bill your insurance and they process the claims . If you wish to know your benefits before scheduling an appointment, feel free to call the Customer Service number on the back of your insurance card and ask for your Outpatient Physical Therapy Benefits.
Who will be seeing me?
You will be seen solely by a licensed physical therapist. You can find out more about our physical therapists, Jim and Melissa Owens, Katie Thomas, and Laurie Stickler on Our Staff page.
What happens during my first visit?
First, we will have some paperwork for you to fill out when you get here. We will need you to arrive 10-15 minutes prior to your appointment time to complete the paperwork. Patients who are under the age of 18 will need a parent or guardian here for the first visit, but may come by themselves to the subsequent visits. You will also provide us with your physical therapy prescription, your insurance card, and a photo ID. If applicable, you will be expected to pay any copays or co-insurance amounts at this time as well.
Your therapist will then take you to a private treatment room for the initial evaluation, where you will discuss your medical history, your current problem and complaints, how intense your pain is and how it is impacting your daily life. You will then set goals for recovery and discuss how to achieve these goals. Your therapist may then perform a few special tests to better understand your situation. Some manual treatment may also be included in this evaluation.
Next, your therapist will explain to you what he or she has found, and will educate you on how to begin to reduce or eliminate your pain. You will be given exercises and/or stretches to do at home, and a treatment plan will be created. Depending on what your doctor instructed, what your therapist thinks and what you think, we will then schedule you to come back for follow up visits.
How does the billing process work?
This process is similar to what happens at your doctor's office. We bill your insurance company based on what was done during your visits, which can vary. If you do not have insurance, you will be expected to make payment at the time of service. The insurance company then processes the information, and based on a contracted fee schedule, lets us know if any of the balance is your responsibility (based on your insurance benefits and whether or not you have a deductible, co-insurance, or co-pay), and issues payment to us for any portion of the balance that is their responsibility. An EOB (Explanation of Benefits) is generated by your insurance company and sent to you and to us, along with a check to us for payment or a notice that the balance is your responsibility. If the payer has determined that a balance is your responsibility, we will send you a statement for the amount due and you will be expected to pay.
If you are concerned about finances and what you will be expected to pay, please call our office. We do offer a payment plan if necessary.
Please also understand that there are many other small steps not listed above, and there may be exceptions to the process as well. It is also possible that at any step of the process, information may be missing, miscommunicated, or misunderstood, which can delay the payment process. Ultimately, our relationship is with you and not your insurance company, so you may be responsible for supplying them with any necessary information.
What will I have to do after physical therapy?
You will be given a home exercise program at the beginning of your treatment, and you will generally be expected to continue this program after you have been discharged from therapy. Some patients will also choose to continue their gym exercise programs independently as well. It is important that you communicate with your therapist about what you would like to continue with after therapy so that he or she can make an appropriate program for you, in order to prevent further need for physical therapy.
If you would like to continue your gym exercise program independently at our office, we offer a monthly membership to our "Forever Fit" program. This costs $2 per day, and you can come as many or as few times as you would like during our business hours. While you will not be making appointments with your therapist, they will be here to answer any questions that you might have.
How long will each visit take?
Each visit will be approximately one hour.
Can I visit your clinic even if my prescription lists another clinic's name?
Absolutely. State law dictates that you may take your prescription wherever you want for physical therapy. Find a clinic that works best for you in terms of insurance participation, location and appointment availability. Our goal is to make you feel comfortable and to give you the personalized care that you deserve.
What do I need to bring with me?
For your first appointment, you will need your prescription from the doctor, your insurance card, a photo ID, and a list of medications that you are taking, if applicable. If you are under 18 years of age, you will need a parent/guardian to accompany you to this initial visit. You will need to arrive 10-15 minutes early for your initial visit for paperwork. If you would like to do this in advance, you can go onto our website at www.owensPTspecialists.com , click on the new patient forms tab, you will need form numbers 1 thru 4. You will then need to bring this to us for your initial visit.
How should I dress?
You should wear loose fitting, comfortable clothes that give easy access to the area that we will be treating. Depending on your specific situation, you may want to wear exercise clothing to your subsequent visits.
How many visits will I need?
This depends on your diagnosis, the severity of your impairments, and what your doctor orders. Some patients only need one or two visits, while others require weeks of care. If your doctor did not specify this on your prescription, you and your therapist will discuss it during your initial evaluation.
My doctor sent me to another PT, but I want come to you. Do I have a choice?
Absolutely! It is your legal right to go wherever you choose for your PT.
"I had a great experience at Owens Physical Therapy. Each one provided me with great care & exercises that provided me with a good recovery for my herniated disc in my neck. Everyone was very friendly & easy to work with. I would highly recommend them for your physical therapy needs."
— Sue